FAIRS, FESTIVALS & CELEBRATIONS
Dale Jones has been called; "one of the most recognized faces in the fair industry." He has been rebooked over 50 times by major fairs across the nation.
Jones routinely hears from fairgoers that his act is the best one at the fair. So often in fact, that it gave him the idea for his company goal ( to be the most well received performer at your fair or festival ).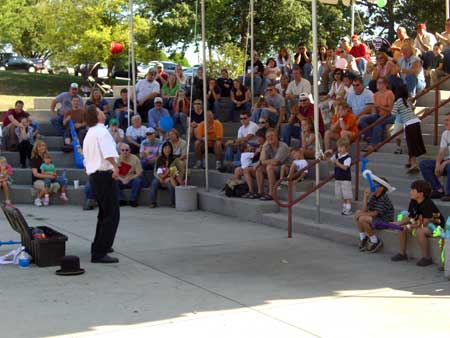 DALE JONES HAS PERFORMED AT THE FOLLOWING FAIRS:
* INDICATES AT LEAST ONE RETURN ENGAGEMENT
| | | |
| --- | --- | --- |
| SALEM FAIR (VA) * | COLUMBIA FESTIVAL OF THE ARTS (MO) * | DECATUR CELEBRATION (IL) * |
| DIXIE CLASSIC FAIR (NC) | GEORGIA NATIONAL FAIR | CAJUN HEARTLAND STATE FAIR |
| FLORIDA STRAWBERRY FESTIVAL | MISSOURI STATE FAIR * | ILLINOIS STATE FAIR * |
| WASHINGTON PARISH FAIR (LA) | SOUTH CAROLINA STATE FAIR | DU QUOIN STATE FAIR (IL) * |
| FAIR ST. LOUIS * | IOWA STATE FAIR * | TEXAS STATE FAIR |
| MICHIGAN STATE FAIR * | ARKANSAS STATE FAIR * | LOUISIANA STATE FAIR * |
| MID-SOUTH FAIR (TN) * | KENTUCKY STATE FAIR * | OZARK EMPIRE FAIR * |
| NORTH DAKOTA STATE FAIR | CHEYENNE FRONTIER DAYS (WY) | CONTEMPORARY ARTS AND CRAFTS FAIR (MO) * |
| TENNESSEE VALLEY FAIR * | ORANGE COUNTY FAIR (NY) | WEST VIRGINIA STATE FAIR * |
| EAST TEXAS STATE FAIR | TOPSFIELD FAIR (MA) | HEART 'O TEXAS FAIR * |
| ROCKY MOUNTAIN FAIR (NC) | SMOKY HILL RIVER FESTIVAL (KS) * | GEORGIA STATE FAIR |
| COLORADO COUNTY FAIR (TX) | RIO GRANDE VALLEY LIVESTOCK SHOW (TX) | ST. LOUIS COUNTY FAIR (MO) * |
| MESA COUNTY FAIR (CO) * | OCEAN COUNTY FAIR (NJ) * | WORLD PORK EXPO |
| BOONE COUNTY FAIR | PASCO COUNTY FAIR (FL) * | PLUS MANY MORE ! |
Here is what you can expect from hiring me for your fair: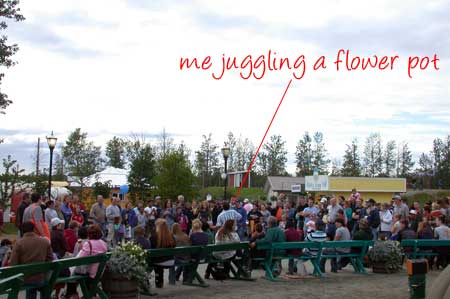 First of all, my performance is very, very funny. It involves excellent juggling as well, but the focus is totally on entertaining people. The show is a one-of-a kind also.

As the first one-handed juggIer that history records, I developed a new system for juggling (because of my bad right-hand -which I injured badly at age 8) and use it during my show. (The system has influenced champion two-handed jugglers as well.) To put it simply, my system allows for more waiting time between throws and catches. This allowed me to even the playing field with two-handed jugglers,
and became instrumental in my success. The uniqueness of my situation makes my show a natural attention getter to the Media. Plus, I even hold a PR Degree
and work with the media as an expert should.

I use audience participation often and effectively during my act, and have been told by some of the nation's top producers that no act communicates with the audience as well as I do.

I juggle balls, tennis rackets, a hat, flower-pots, a head of lettuce, a unicycle (which I also ride) and do one or two hilarious bits with balloons during my performances. I can work on any size stage -including grandstand- or even on your commercial mid-way. I am an excellent emcee, and can perform at any event (for any age group) that you might have during your fair. Also, I have the ability to set-up on very short notice and have "saved" many a fair when a scheduled VIP is late or another act does not show.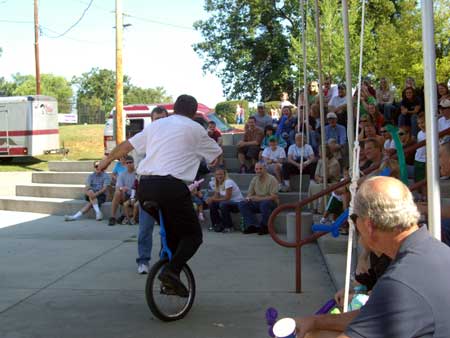 Truth is, my reputation is unsurpassed in the fair industry. I've been rebooked more often than most anyone has been booked in the first place! My list of rebookings include: State Fairs in Alaska; Arkansas; Georgia; Illinois; Iowa; Kentucky; Louisiana; Michigan; Missouri; North Carolina; South Carolina; West Virginia and many other major fairs and festivals across the nation. In fact, one fair (Tennessee Valley) has hired me over 20 times!

Despite all that is mentioned above, my act is reasonably priced. I simply love working in the Fair Industry and want to help your event succeed!
Note: Please search my name: "dale jones, juggler" on "Google." In short order, you should come up with much more information on my performances at fairs and festivals around the nation. It will give you an idea as to just how many fairs have hired me as well as how committed I am to providing excellent entertainment for the fair industry.

QUOTES FROM FAIRS:
"DALE JONES IS A CERTAIN CROWD PLEASER. ALWAYS REQUESTED, ALWAYS IN DEMAND...WILL ALWAYS RETURN." (Charlie Robyn, Entertainment Director, Contemporary Arts & Crafts Fair)

"IT WAS WONDERFUL, YOU REALLY PACKED THE PLACE TOO!" (Marie Hunter, Coordinator, Columbia (MO) Festival of the Arts)

"THANKS SO MUCH FOR DOING WHAT YOU DID FOR OUR FAIR!" (Carey Harveycutter, Manager, Salem (VA) Fair)

"DALE JONES HAS ONE OF THE BEST ACTS IN THE BUSINESS." (Don Holifield, Manager; Tennessee Valley Fair)
"OF ALL THE ENTERTAINERS WE BOOK, WE GET MORE POSITIVE COMMENTS ABOUT DALE JONES PERSONALLY AND HIS ENTERTAINING THAN ANY OTHERS." (Diane Larkin, Publicity Director; Missouri State Fair)
"AS USUAL, YOU DID AN OUTSTANDING JOB AND EVERYONE WAS VERY MUCH ENTERTAINED BY YOUR SHOWS." (C. Ed Nelson, CFE; Louisiana State Fair)
"DALE JONES IS A WONDERFUL ENTERTAINER PROVIDING THE CROWD WITH MANY LAUGHS DURING HIS SHOW." (Patsy Brooks, CFE; Florida Strawberry Festival)
"JONES WAS A BIG HIT SO WE BROUGHT HIM BACK THIS YEAR." (O. Jackson Meyer, Manager; Ocean County Fair)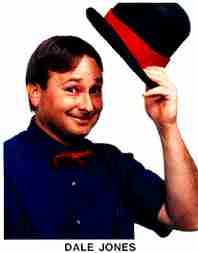 Questions or comments mail to Dale@DaleJones.com